Member Log In
/ 20060120 / I have unprotected the member area so if you want to explore K.CoSy ,
which remains the only interactive development environment for K , be my guest .
---
---
K Scripts & Tools
---
---

Arthur Whitney's K is by many measures one of the most powerful programming languages .
K.CoSy turns it into an interactive "NoteComputing" environment .

---

CoSy "Turn on and Use" Note-Computing Environments Customized with K.CoSy.Kdb supply Individuals and Groups who earn their living thru analytical thought with the most powerful tool for realizing those thoughts on data of any scale .

---

Already using Kdb ?
You've got to see the immediacy and flexibility of CoSy as your IDE and interface for your most sophisticated End Users . get info
K.CoSy NoteComputing Newsletter200305
Highest value use :
Very fast very large scale analytic time series data base development and query .
Consultant , Analyst , Auditor ,
Venture Capitalist Notebook
Rapid Quantitative ( particularly Financial ) Modeling
Project Coordination : Pass folders containing entire notes , financial models , accounts , etc , for projects , clients , vendors , etc , as simple ".csd" files to any one else with a CoSy .

---

Requisite ablities :
Remembering function keys .
Grasping great generalities .

---

Recent uses :
Diary / Log with Ledgers
HTML Preprocessing
Screen Scraping , HTML table extraction
Portfolio Analysis
Email file pre-examination
---
---
If you are in the NYC Metro area , drop me a note
let me give you a demo .
See unmatched power of this lingistic style of computing -- Bob A
---
" So well done, CoSy has stimulated me into trying to learn K "
---
---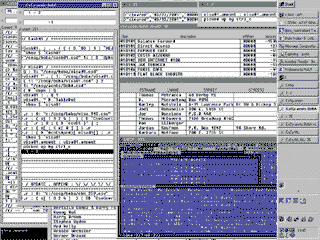 Old flat APL CoSy ( blue )
in front of neonatal K.CoSy

After 17 years living in my CoSy "notecomputing" environment created in STSC's flat APL+PC , I have since Thanksgiving 2000 created a similar working and programming environment in Arthur Whitney's K language and its tightly coupled GUI . ( See http://Kx.com )

Already K.CoSy provides an extremely productive workspace like environment previously impossible in K which is itself one of the most expressive and perhaps the fastest language yet created .

Among my uses of K.CoSy is the preprocessing of these web pages with a small vocabulary I have constructed to allow embedding of arbitrary K expressions in my HTML . ( View the source of this page for a couple of examples of embedded K . )

If you have an interest in exploring K , K.CoSy's open definitions , interactivity , and memory of every thing you do , greatly ease the task . The only silver lining to the horrendous disk crash I suffered mid June is that reconstructing from scratch , the code is much cleaner and more mature .
Caution : K and K.CoSy must be considered eXtreme programming environments .
If that appeals to you , prepare to be amazed . If not , K and K.CoSy may be totally inscrutable to you .
( move cursor on pik to see title comment )
Here is what you see when you click "click to start" opening K.CoSy .

Click .CoSy.text to see the whole contents of the variable `text when you first load the current version K.CoSy .

These should give you a flavor of the open nature of K.CoSy and a glimpse of its broad utility .

| | |
| --- | --- |
| Klik to see Help on the defined Keys in `text . | |
#Subscribe
K.CoSy , being young and developing open code , lends itself to offer by subscription . SORRY , charter subscriptions have done their job and are a thing of the past . Please contact us directly about integrating CoSy into your business life .

Charter subscriptions are available for just $30 . Subscription includes access for one year to the source files in the protected MEMBERS directory and the ability to post to the group ( and , of course , to ask me any usage and technical questions .

. Current members of the CoSy/Notecomputing group are automatically Charter Subscribers with full access privileges .
---
To become a member of CoSy and experience its extreme simplicity :
Go to Kx.com and download a copy of K ( or Kdb which includes K ) . Download their docs too ; CoSy assumes you know or want to learn K . CoSy does a lot to tame K , but you will see what a wild mindmeld Arthur has condensed .

Subscribe to K.CoSy NoteComputing Language Pool .

Drop me an email or give me a call letting me know you are writing a check .
This is all very fresh , please contact me with any questions or suggestions .


-- Bob A --